Ireland's digital marketers gathered at the RDS on Thursday 4th February for The Sunday Business Post Swipe Summit. MakinMediaMobile were exhibiting on the day and and representing the team were Geoff Allen, Grainne Moore and Winnie Padian.
The Swipe Summit had many top speakers from the digital marketing industry in which we took away some useful points. The hashtag #swipesummit trended for the day and you can see our twitter posts here. One of the important messages from the event came from Google Ireland's Tom Hayes – "We don't go online, we live online."
Above: A quick chat with Geoff Allen about this years Swipe Summit.
Key Points
Paul Cawley from Pinnacle Search Engine Marketing included link building tips and using link validating web tools like ahrefs, Majestic, Moz and Google Webmaster tools to help you find link opportunities. Also in order to come across as a good marketer you must be producing interesting content for your audience so that they will engage and share.
James Kavanagh from Notorious PSG and Holly Shorthall from New Slang gave us a synopsis of how Snapchat is proving to be more and more popular with some big brands like General Electric and Heineken and how it is becoming the future of marketing! It can be about the personality of your brand and a fun way to build an audience. It can also be something that small businesses can easily adapt to. What do you think?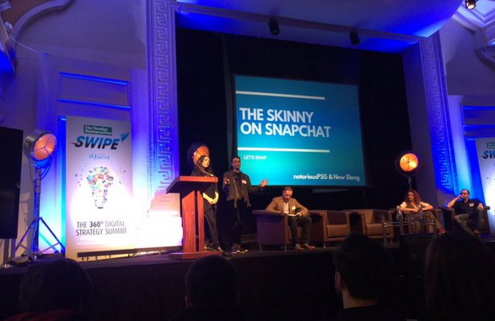 One of the hot topics of the day was Adblocking in which Sean Blanchfield CEO of Pagefair spoke on the threat of Adblocking to the Digital Media Industry and the importance of it to consumers and what advertising agencies must learn from it.
Overall we found the day incredibly insightful and can definitely incorporate some of the innovative ideas from the speakers into our own digital marketing campaigns. Digital is the future for all businesses. Many businesses will find it a challenge but it is something that they will have to adapt to.
Above: A quick chat with Grainne Moore about this years Swipe Summit.
Overall the Swipe Summit was a worthwhile networking event and well organised by the team at iQuest. It was good to meet up with other exhibitors on the day including Shoot Cut Grade, Emarkable, Facelift, Encendo and DigiWomen. We met some business owners in which were very interested in incorporating video into their own digital strategy.
Incase you didn't get to meet us at Swipe Summit you can contact us where we can discuss how we can help you with your Digital Marketing Strategy.