With statistics showing over 84% of Irish people using the internet daily, it is a no brainer that businesses need to be online to be in with some chance of engagement with this huge market segment. Statistics see internet users;  savvy online businesses see prospective customers.  
Here are a few ideas to help your company get ahead of the competition: 
Strategy #1: Know your audience
Before you commence your online marketing strategy, identify who your target market are. It will help keep your ideas aligned so you focus your resources on producing marketing content that will appeal to them. For example:
What are their interests?
What are their problems & needs?
How can your product help them to fulfil these needs?
Do you want to appear trendy for a younger audience or refined for professional types?
Time is a precious commodity in business.  Instead of trying to appeal to a mass market, sharpen your communication to appeal to those who really count.
Strategy #2: Pick the right social media channels
Choosing the right channel is important. Social media websites are full of potential customers but are they the right type for your business? The rule of thumb is that Facebook is good for B2C and LinkedIn is better for B2B.  This might not necessarily be true though. With over 70% of Irish businesses on Facebook, that is a lot of  potential for B2B networking and brand building.
Linkedin is a great channel for networking your business and finding out what your peers & competitors are doing. Twitter appeals to a wide range of users and is great for branding. Some businesses choose to use all three (or more) for online marketing.
If you have time to manage that many, then that is fine. Be warned though that your business might be judged if one or more of your sites have no regular or recent activity.
Strategy #3: Use analytics to sharpen your content
Facebook provides a fantastic set of tools to help analyse your audience and their reactions to your posts.  It provides stats on engagement, clicks, likes and lots more. All of this information is very valuable to your business. Why? Because over a period of time, you will know what topics/ images/posts your audience engages with better and this enables you to choose the content you know they want. The result = improved engagement with your audience.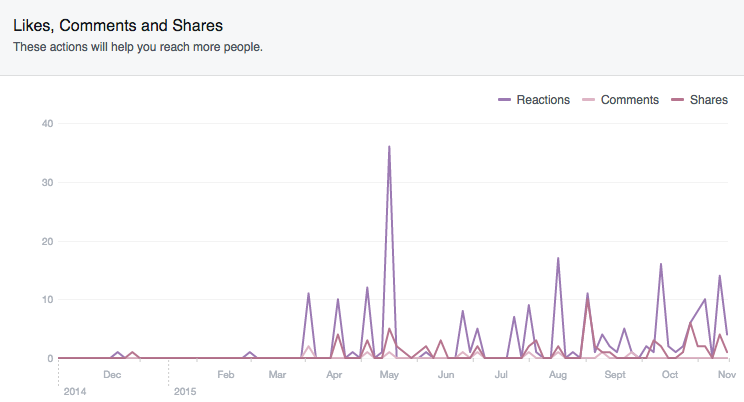 Twitter has tools to identify what your followers are interested in.  Tailor your content to include topics that interest them, again to encourage sharing and engagement and help to build your brand.
Strategy #4: Update your website 
Your website says a lot about your company.  If your site is dated, non responsive and rarely updated, you can bet your bottom dollar that visitors will take one look and leave. Then go to your competitor's website for a better user experience.  Your site does not need to have whistles and bells but it will be viewed on smart phones and tablets therefore should 'shrink to fit'.  Think of your website as the door to your online shop.  Make sure to SEO your site with relevant keywords to help with Google search engine ranking.
Strategy #5: Create a content marketing strategy and document it 
Writing a strategy is one of those laborious tasks that a lot of businesses push to the bottom of their to-do list.  It is highly motivating when you see your plans in black and white.  Like a guide book of how to get your company to where you want to be.
Content marketing is the best way to engage & grow your audience, eventually converting them from followers into customers.  Some benefits of having a strategy for online marketing include:
Organic growth
Improved ROI
Motivation
Be a clever bunny and implement smart strategies into your business plans.
How can MakinMediaMobile help you grow your business?
We have a built a reputation for helping businesses to grow, through our expertise in video creation, web development and content marketing services.  Our dedicated team are 'on top' of the latest global trends & technology to ensure our customers receive only the best.
To learn more, see our case studies or feel free to contact us.