Visual storytelling is nothing new. Some 35,000 years ago, humans were drawing on cave walls & ceilings, communicating their stories through elaborate pictures. In today's digital era, businesses are online and using images much in the same way, to communicate their brand. An image can stop a person in their tracks, so it's a wise choice of attention grabbing tactic. This applies to video too, if we think about the 'viral video' phenomenon.
The only problem is getting it right.
It's all in our minds (and buyer psychology)
Images are subjective; what works for one may not have the same impact on another. Animals get bandied about on social media because they have the power to stir our emotions. They are a good choice for business branding.
Virgin money ran a campaign using animals to differentiate its product from other banks. They also created a video for the same campaign using a funky pigeon! The campaign's running theme is very different from the 'normal' banking ads.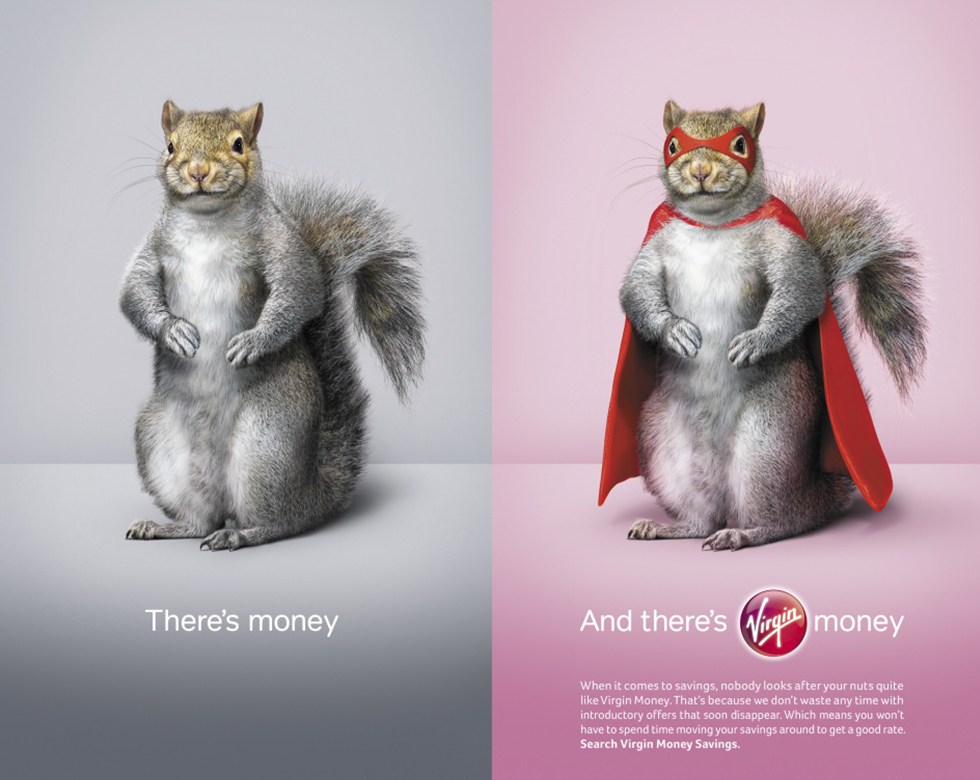 Closer to home, Vodafone Ireland ran a series of marketing campaigns with 'Piggy Sue' who featured as the cute piglet saved from the slaughter. This little piggy did not go to the market, instead she got people talking.  There were dedicated articles about her in national newspapers. The point is, it got noticed!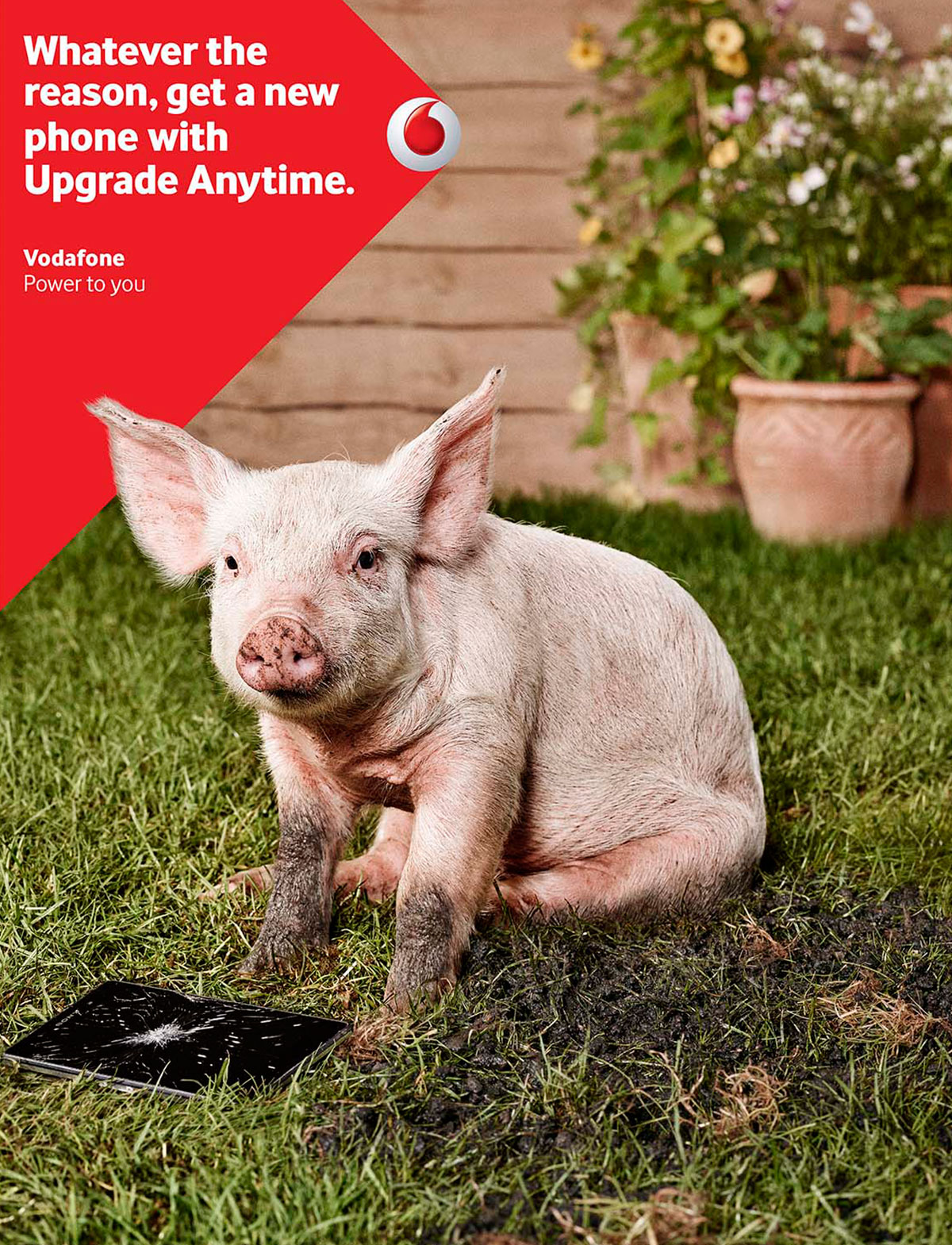 Most people will be familiar with the 'food porn' adverts from M&S which first aired on TV ten years ago. Far from using animals, they went straight for the jugular and enticed us with images of their delicious mouth-watering foods, seductive voice over and dodgy music.
In a similar, yet different marketing strategy, their current campaign is slightly more elegant, using close up shots of their food to lure consumers into their food halls.  Marketing company, The Drum report that they are using neuroscience in their marketing strategy, combining science with the psychology of buyer behaviour.
Large corporations have big marketing and advertising budgets but the principles will apply for smaller businesses who don't have the resources for big budget shoots. If its good enough for them and all that.
Keep it real!
In fact photos & videos, taken on a smartphone can be very powerful as they have an authenticity about them that helps to drive engagement. Think about hotels who share images of married couples at their reception. Or restaurants who tease with shots of their culinary delights.
How to use imagery on social media
People won't bother reading text a lot of the time, so the first rule is that your image has to stand out. Dublin & Midlands based fintec company, Debapay, use social media channels to grow their business brand. They are aware that using the right type of image, will improve online activity.
Using them as an example, we can take a look at how altering the images they use online, can make a difference. In the tweet below, while the picture itself is great, there is no branding, no message. More importantly, there's no engagement.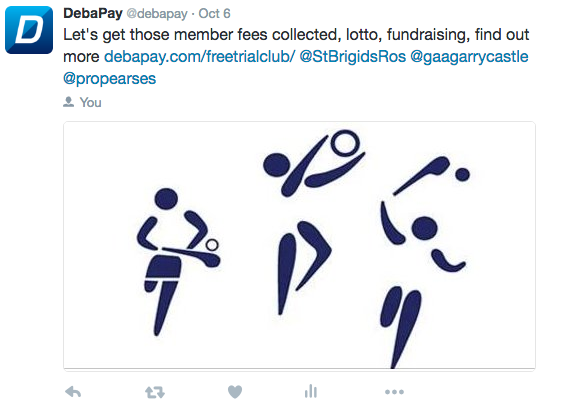 By altering their image in the subsequent tweet, Debapay have got it right on three important points. (1) the product message is clear straight away, (2) their logo lets people know who they are and (3), by adding a photo, there's a visual insight to who's behind the company.

The end result is improved engagement. Social media channels may not always be a direct sales tool but they are very useful for branding & networking. If used in conjunction with traditional marketing ideas, they will help to grow your business.
Some handy tips to improve online presence
Be objective. You know your company inside out but your potential leads or customers don't know you from Adam. Be certain your images reflect who you are / what you do.
Be careful with your branding. Stick with your logo's colour themes throughout.
Be innovative. Instead of text, tell your story with pictures. For example, on Facebook use slideshows, upload videos and so on, taking care to choose only the best quality. Fuzzy images will impact negatively.
Be original. Get in the habit of taking photos at your place of work/events. Some will make the grade some wont but they will be your creation.
Be creative! Make a video that explains what you do. Explainer videos are very powerful tools and can help elevate your business above that of your competitors.
Be relevant. What are your customers interested in today? What is trending on social media and how can you use imagery to relate to this trend.
Use moving imagery and really tell your story!
The idea of businesses using video is a growing concept. Yes, there are the innovators who have already jumped on the idea and large corporations who have raised their profiles  through video. However there are still lots of businesses missing out on this valuable marketing tool.
According to UnBounce [a landing page building website] including a video on your landing page can increase conversion rates. Some of the best websites have more imagery than text content.
At MakinMediaMobile we are experienced in video production for business. Our creative team can advise you on the best use of imagery for your company. This is true for corporate, training, branding for a wide variety of industries. Take a look at our showreels and feel free to call us for more information.