Over the last couple of years there has been a welcome emergence of business start ups in Ireland. The banks are back lending and various Government institutions have spare coffers for funding, training and mentoring.  Below are a few practical tips that may be beneficial to those thinking of dipping their toe in the fickle world of business.
Business start ups tips!
1. Get advice on business tax liabilities.  This is one area that catches out many new companies and can leave them faced with large revenue bills by the end of their first year trading.  A little knowledge from an accountant or a mentoring programme (see LEO Regional Offices) will make sure you know all your financial liabilities, in advance.
Tip! Keeping a record of purchases / sales on an Excel spreadsheet can suffice until you can afford an accountancy package. Most accountancy software is compatible with Excel. You can email your spreadsheet to the accountant and avoid paying the fees otherwise charged for entering your data into their software.

2. Choose your premises wisely.  It might be great to work from home but there could be insurance implications if you operate your business from your house. Home insurance may not cover items categorised as business assets. Also your home could become classed as 'mixed use' and as such be liable for commercial rates.
Tip! Contact your local revenue office or go online to the Revenue website and do your research beforehand. Also, don't forget separate insurance for your business equipment.
3. Put effort into your branding. This might be obvious but it so important to spend a bit of time deciding on your business logo.  Your brand image can say a lot about your company so chose wisely.  Think of the font, colours and design. Be clever or use reliable. However you want your company reflected, be individual to your business image and get your logo recognised.
Tip! If you are going to use social media channels to promote your business (who wouldn't?) you may need a smaller image to fit the profile picture. This is the one that appears next to all of your posts so is valuable to your company branding.
4. Use Facebook to promote your business. There are over 1.5 billion users on Facebook.  Just think of all those potential customers you can reach if you promote yourself on the social media channel.
Tip! Don't combine your personal Facebook page with your business page! It will look unprofessional to have cutie pictures of animals appear on your business feed! Create a separate page for your business and you can easily switch from one to the other without having to log out.
5. Use other social media channels to network.  Linkedin and Twitter are like great big databases of businesses. Set up an account and start to connect. You can learn from your peers and keep abreast of changing trends nationally and globally. This could be valuable for PESTLE analysis.
Tip! Sharing content is good practice, so don't be afraid to share other company's posts or tweets on your page. Hopefully they will do the same for you and help endorse your company.
6. Content, content, content! Use your website to maximise your online visibility & customer reach in a cost effective way, i.e. for free!. How is this done?  By blogging.  Choose your focus keyword wisely by knowing what search terms your customers use. Google Adwords has a keyword planner, you just need a Gmail account to access Adwords.  Then type in a few details about your company and the planner will advise relevant keyword searches throughout Ireland (or any specified location).
Tip! Google reward good content so make sure your text is useful to your readers (potential customers).  A new business website will need all the help it can get to reach first page ranking. Good content via blogging is a good way to start.
7. An explainer video is for life.  In any normal day, browsing through the internet, we are bombarded with tons of information. So how do you get heard above the noise while at the same time keep viewers interested? Explainer video can do the following in less than a minute:
explain what you do concisely
provide your business solution / USP
choice of live action or animation with voice over & music
evoke a response for customer engagement
give a call to action
Tip! There is not much point investing in an explainer video and not using it to the max. Uploading it to your website is a good start but you can also use social media to promote it. Invest a small amount into a targeted campaign. You will be amazed at how many people you will reach. Plus it will increase traffic to your website. Bingo.
8. Invest in a website – it is your "shop" in the digital world.  According to recent survey by Google, 84% of people in Ireland use the internet daily with a good proportion shopping online. This trend is only set to continue so why not get your share of the online market? To upgrade your website to an e-commerce site, LEO offices have funding set aside for Trading Online Vouchers.  (Eligibility criteria is listed on their website).
A website is not just beneficial for product based companies.  Most internet users regularly use Google to search for service industries. Companies need to be online to capture this market potential.
Tip! If your business is not currently eligible, or if you don't have the budget to upgrade to an e-commerce site, you should at least invest in a one page website – just make sure it is responsive! This means it is compatible with all hand held devices like smartphones / tablets and all your precious information will shrink to fit the screens!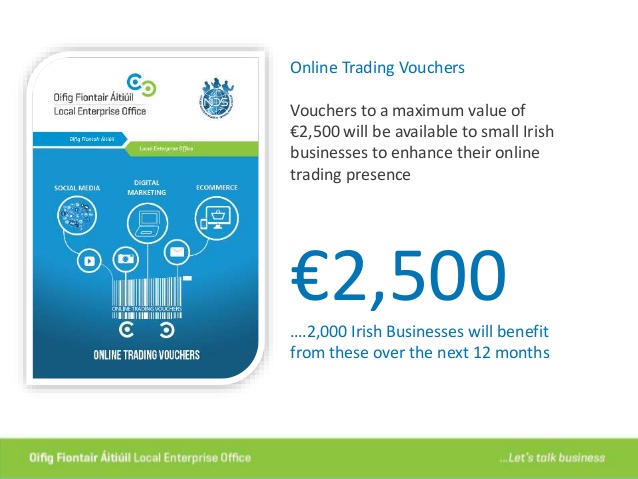 To succeed in business you need to be savvy to all the elements that can help or harm your company.  At MakinMediaMobile our aim is to help businesses, small and large, to become more visible online and maximise customer reach.
We do this through bespoke explainer videos, individually created to each business.  We also provide content marketing services to help with SEO and page ranking and even stretch to the odd website or two.
We will tailor our services to suit your needs.  Contact MakinMediaMobile today for a friendly, no obligation chat.