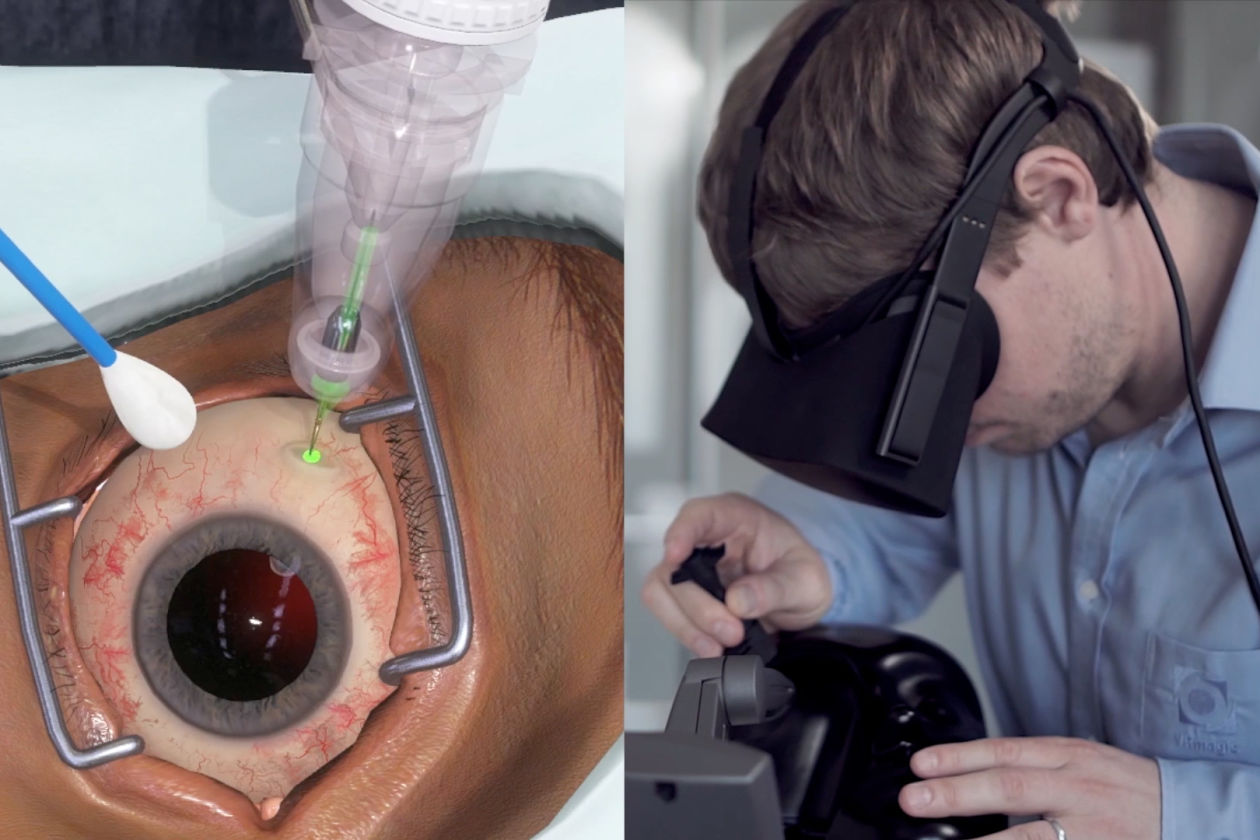 VR For Training in Ireland
Virtual Reality (VR) for Training in Ireland
With an increase in content creation and wider availability of cheaper headsets, Virtual Reality (VR) is finally entering into a period of mainstream adoption. What's interesting during this phase is to examine what the technology is actually used for. Given its core attributes, we believe that Virtual Reality is set to revolutionise the training industry in Ireland. Below we take a look at how the immersive technology is being applied to training elsewhere in the world. We also examine the potential market for the VR training industry in Ireland, and how the how benefits of VR could potentially revolutionise the Irish training industry.
What is Virtual Reality?
If you're totally new to the scene, Virtual Reality (VR) is a computer-generated simulation which incorporates sound and visual information, received through a headset. More recently VR has incorporated other types of sensory feedback, such as haptic technology, which recreates the sense of touch through vibrations. The 'Immersive environment' that Virtual Realty creates can be a real-world environment or can be rendered as an animation or fantasy world.
What's the size of the Virtual Reality Market in Ireland?
Unfortunately, there is no official data at the moment the size of the Virtual Reality Market in Ireland or for the number of companies currently working in the sector. In an article published in Irish Tech News last year "Alex Gibson, one of Ireland's leading minds on VR called out the Irish government for the lack of data available on the VR industry. "The Irish Government needs to undertake a detailed analysis of the augmented reality (AR) and virtual reality (VR) industries if it wishes to capture investment in these growing markets," remarked Gibson.
Although we are still waiting for a detailed analysis of the size of the VR market in Ireland we do have data on the size of the industry and users worldwide, which is a good indication of the potential market scale and future growth forecast for Ireland. According to the most recent data published by "Markets & Research" the global virtual reality (VR) market is expected to grow from $7.9 billion in 2018 to $44.7 billion by 2024. The increase in content creators and the availability of affordable headsets is surely playing a big part in this. While the Virtual Reality sector has undoubtedly been led by the entrainment and gaming industry one of the more niche applications that have seen rapid growth is 'Virtual Reality for Training'.
What is "Virtual Reality for Training?"
'Virtual Reality (VR) for training' involves the use of this emerging technology to create alternative training methods which utilise immersive learning environments. The reason for the rapid growth in the application of virtual reality for training is the ability for the for the trainee to undertake multiple training iterations in a totally risk-free environment. Virtual Reality Training is akin to Simulation Based Training (SBT). SBT affords users the opportunity to respond to high-risk situations, and repeat training scenarios, without putting themselves or their co-workers at risk from error.
Four Examples of Virtual Reality (VR) for Training.
1. VR Training for Military
The British Army is currently investing £1 Million in Virtual Reality Training. According to CNBC News the British government has awarded the contract to Australian software designers 'Bohemia Interactive Simulations'. The company already has over 50 defence organisations worldwide already using its products to train soldiers.  The British Defence Forces will be testing the software, which utilises VR Headsets and high-resolution customised avatars, to see if the training programme is successful. The data collected from the Virtual Reality Training scenarios will help the soldiers to track and better understand their own performance.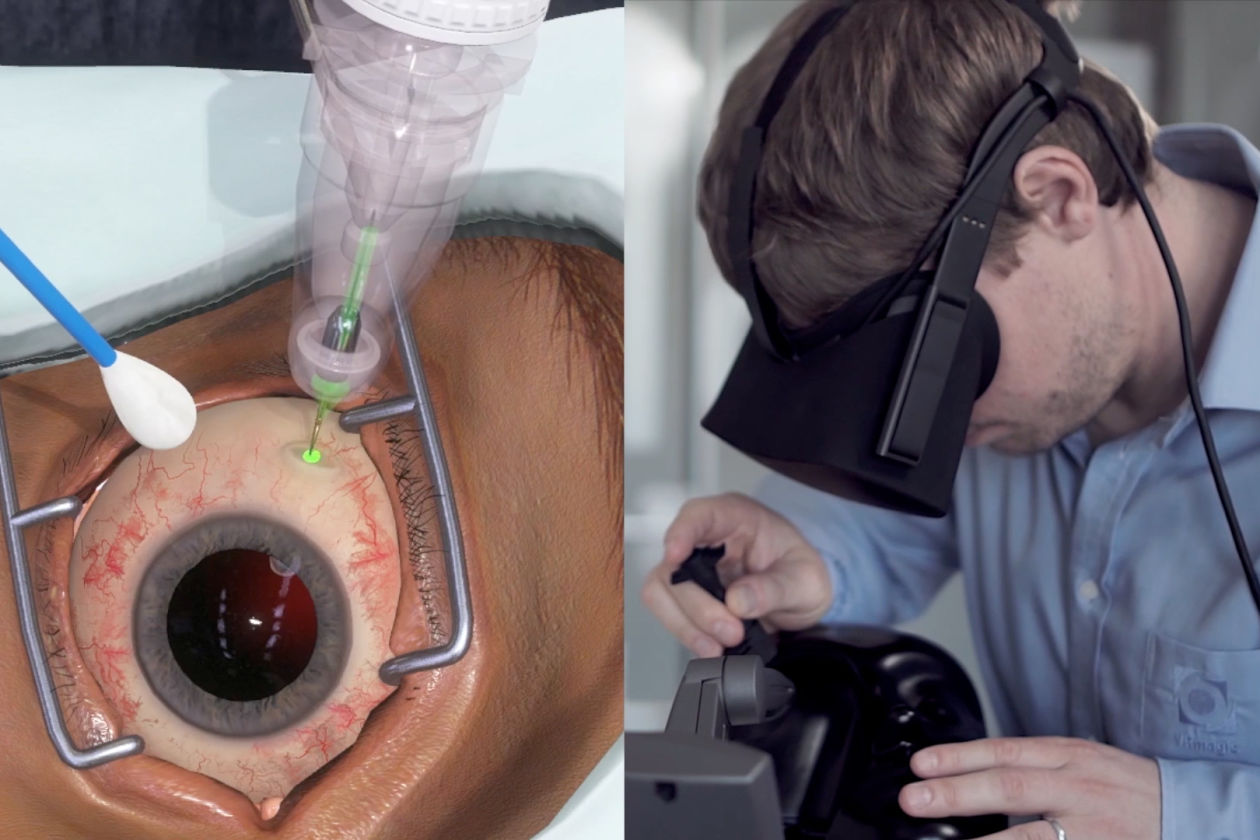 2. VR Training for Medicine
Genentech one of the world's leading biotech company's has developed a Virtual Reality Training solution that teaches eye surgeons a new procedure that could help over 1 Million Americans. According to an article by Sara Castellanos in the Wall Street Journal: "Over the past year, more than 150 surgeons have used VR to simulate a surgical procedure treating 'wet age-related macular degeneration'. The surgery requires the implant in the eye of a device, roughly the size of a grain of rice, that continuously releases a drug for the treatment of the disease. If the device in the clinical trial is approved by the Food and Drug Administration, Genentech expects to train more than 2,200 retinal specialists in the U.S. -Virtual reality will be a major component of that training in order for them to master the procedure."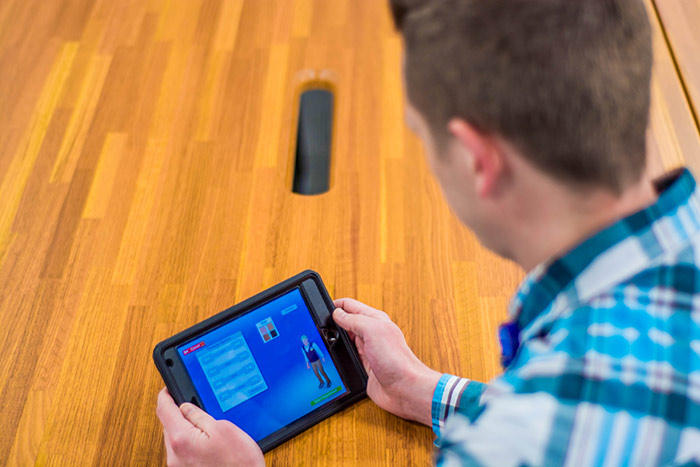 3. VR Training for Retail
American Discount Chain Walmart has developed a Virtual Reality Training Application to help associates better understand a day in the life of their store supervisor. According to reports, the App which is called "Spark City" allows the user to design an avatar and then use it to run a grocery department while responding in realtime to realistic on-the-job scenarios.
"Spark City is not Walmart's first effort at blending digital experiences into its associate training program. In October 2018, the discount giant launched virtual reality (VR) training at store level with Oculus VR headsets. The Oculus platform delivers realistic, repeatable and scalable training content, which helps associates learn information more quickly and retain it better. The VR training program focuses on teaching employees about new technology, soft skills, like empathy and customer service, and compliance".
4.  VR Training for Manufacturing
In March last year, the Volkswagen Group revealed the next step of it's VR training plans in the form of a global initiative that would bring VR training to the 10,000 employees of Audi, SEAT, ŠKODA and Volkswagen. According to a report in VRScout over 30 VR training experiences cover everything from vehicle assembly and team member training to customer service.  Volkswagen's Virtual Reality Training application was by developed by Innoactive and according to a review in Mashable,  "the company developed the content management system and software that lets customers like Volkswagen run training sessions and workplace simulations. Training costs can add up, but beginner mistakes in the VR training will not ruin a workflow or destroy expensive inventory — it's all digital and can be reset at the push of a button. With Virtual Reality Training Travel time and costs don't really exist".
7 Benefits of Virtual Reality Training for Irish Industry
Training in Risk-Free Environment: Unfortunately, many accidents occur in during the training process. Virtual Reality based training allows your trainees to experience the real-world scenario without any of the real-life hazards.

Greater Retention of Knowledge: According to research carried out by Dr Narendra Kini, CEO at Miami Children's Health System, "the retention level a year after a VR training session can be as much as 80%, compared to 20% retention after a week with traditional training". Virtual Reality Training can benefit Irish Industry by increasing knowledge retention in comparison to traditional delivery methods.

No more geographical constraints: Virtual Reality, by its very nature, eliminates all geographical restrictions. When applied to Irish industry that means multinational organisations can role out their training programme in multiple locations without any travel-time constraints. It also means your foreign office can experience operational procedures in Ireland, without the need to travel.

Track user errors and create reports: With Virtual Reality based training Irish companies can collect real-time data in the form of reports based on how their trainees are performing on the immersive training platform. This data can go toward influencing future training programmes and improving operational procedures. VR training will also provide instant instructional feedback to the learner.

Greater ROI from training budget: With Virtual Reality Training Irish industry will gain a greater return from their training budget. The nature of Virtual Reality is such that the trainee can partake in an infinite number of training repetitions without any increase in cost. Unlike traditional training methods, the trainee can also undertake the lessons as "self-guided" negating the need for increased contact hours with a teacher or trainer.

Decrease WorkPlace Accidents: According to the Irish Health & Safety Authority 47 people died in workplace accidents in 2017. With the increase in training repetitions and greater knowledge retention, Virtual Reality Training could reduce workplace accidents in Irish industry by Improving employee performance & accuracy.

Engage with trainees through an immersive simulation: With Virtual Reality Training, Irish companies will have the ability to engage with their employees through a Virtual Reality Training Simulation. The VR learning experience will save time with remote learning and improve the technical proficiency of trainees. It should also make for a more enjoyable and engaging training experience.
Virtual Reality (VR) for Training in Ireland
At Mersus Technologies we have partnered with Irish Industry to provide them with the tools to deliver advanced training solutions to their employees. Our Virtual Training Platform enables the manufacturing and communications sectors to strengthen skills and expand their knowledge base in a totally risk-free environment. We provide organisations in Ireland with a distinct competitive advantage by applying the power of the most advanced cutting edge immersive technology to training.
While Virtual Reality training is a valuable learning tool that can be used for a variety of applications, our advanced products have been specifically tailored to meet the training and simulation needs of industry. Our product makes it possible to place your trainee in any location or scenario possible. Employees can interact and engage with real-world situations that would otherwise be impossible to recreate in a traditional training environment.
Mersus Technologies are the immersive training platform provider of choice for manufacturing, pharmaceutical and communications companies worldwide. We offer bespoke training simulations for a broad range of experiences with a focus on skills development, knowledge retention and proficiency.