Our ExpertTalks series is a collection of interviews with experts in the fields of Video, Animation and Virtual Reality. Today, we're inside a real-time immersive communications platform, called meetingRoom, that has been specifically designed for teams to meet and work remotely. It's been equipped with whiteboards and various screens enabling users to share information, as you would in a real meeting scenario and boasts being 90% more bandwidth efficient than skype.
"We're only still in beta, we'll be fully ready next year, but what your seeing is the version before beta in terms of the open beta. This is not a consumer facing product at the moment. By Quarter 1 next year we should be ready"
As Jonny Cosgrove meetingRoom co-founder speaks to us, his avatar walks past us in the virtual room, and as it does his voice travels, replicating what happens in real life and giving the impression that he has moved passed us in a physical space.
Jonny set-up meeting rooms with his partners Abey Campbell and Tadhg O'Sullivan in March 2017 and describes himself as a tech entrepreneur with a background in marketing, data protection and running nightclub events.  In UCD he was known as 'the man to get the beer tokens off'.
"I was the Ents Officer during my time in UCD and went on to work with a number of venues, so I guess you could say I've been putting peoples bums on seats for quite a few years now. The only difference now is that I'm doing it in digital spaces".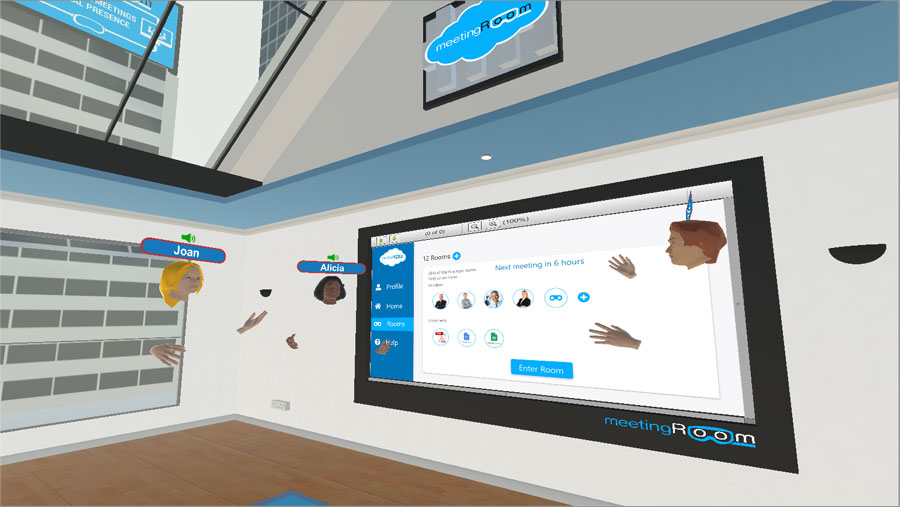 A Tool That's Built For Business
At its core meetingRoom is essentially improving the user experience of the traditional conference call. Making the interaction more engaging, with the benefit of increasing information retention and ultimately productivity.
"Conference calls suck"! Jonny Exclaims, "And not just because it's a nice way of saying that these things are not good enough, but they are very much a personal tool that's been made into a business tool. We've created a tool that's built for business, this is somewhere you can have real conversations, and sit around a table as opposed to looking at a screen that you're not engaging with. You can have that water-cooler chat that you just don't get when you have everyone on high definition on a video screen, it's just not natural."
Central to the meetingRoom platform is its Virtual boardroom table, where the avatars of multiple users can meet and discuss business.
"It all starts at the table, that's the most important part of the room, that's your central meeting place where you will do your talking. Where you really see the benefits of meetingRoom is when you've multiple users in the platform."
As we're chatting with Jonny, in his meetingRoom platform, we notice a screen on the Virtual Wall. "This room has a PDF wall" Jonny shouts over, "but you can put various forms of media up". "Over here we have a white board", Jonny's avatar point us over to the far wall… "This does everything a whiteboard can do and over here we've got a private browser so the other members in the room can't see what you see, -so you can do a quick google search and answer a question during a meeting".
Immersive Communications
Jonny is quick to point out that they are not trying to create something that users live in all day and that the team have been determined to create a functional business tool rather than load the platform with novelty VR functions.
"It's been important that we maintain focus and not just do things that are really cool in VR. We are creating something that is very much built around use cases, a platform that adds value as opposed to something new to add to your tech stack". Jonny tells us, "We all know how big the SAAS business has gotten over the last ten years and it's very much a case of trying to build something that people use for one thing alone. Can you see your team? Can you hear your team? That's our requirement and that's what we want to stick to".
Jonny's team seem to be the perfect combination of marketing, user experience and tech savvy. "There's three of us who founded the company" he explains. Abey (Campbell) heads up the UCD VR Lab, he is 15 years working in this industry. Tadhg (O'Sullivan) apart from being a visual data expert, is also a trained psychologist, and his experience in that field has fed through to the platform you're in today".
Multiple Platforms
Jonny points out that the company is not trying to be a big player in the VR market and that the immersive technologies are simply an additional element of the overall tool.
"I don't call this AR or VR it's simply immersive communications" he explains, "you don't have to be wearing a headset meetingRoom works on Desktop, Mobile, or tablet". "We have kept a unified interface across the platforms and it's something that separates us from some of the most well known household brands in terms of our presence."
Although Jonny and his team are eager to get to market they're planning a number of soft launches to ensure that the user experience and functionality are tight before the application goes on general release.
"We're working with select partners at the moment, we're not in a rush, we'd prefer to get this right. What you see now is the result of blood, sweat and tears from over a year of working with customers. We're hoping for a full product launch in Q1 2019, so the plan is to work through the next few months, expand on the feedback we've already been getting and get the product out there".
The Business Model
In terms of a business model Jonny sees his team becoming virtual landlords. "The pricing model is very simple", he tells us, "we rent rooms". "In the beta product you'll get 3 rooms with up to 30 people within those rooms. So you can have 10 people within each room, at each time, and also have meetings running concurrent. From our point of view it's as simple as if you were renting a room in real life".
Jonny believes that the future looks bright for the immersive technology sector in Ireland. "Enterprise Ireland have been fantastic in terms of supporting the sector! But it's going to take good leadership pushing forward. Ireland is a hub, what we should focus on is what this island is good at, -which is storytelling. Ireland, as far as I can see, is the European and potentially the global home of immersive experiences. We've incredible talent here, almost every institution now has some gearing toward this technology. Ireland can set standards on a global scale".
To keep up to date with Jonny and the team at meetingRoom you can follow them on twitter here. 
Mersus Technologies are Ireland's leading content creators for Virtual Reality, Video and Animation.