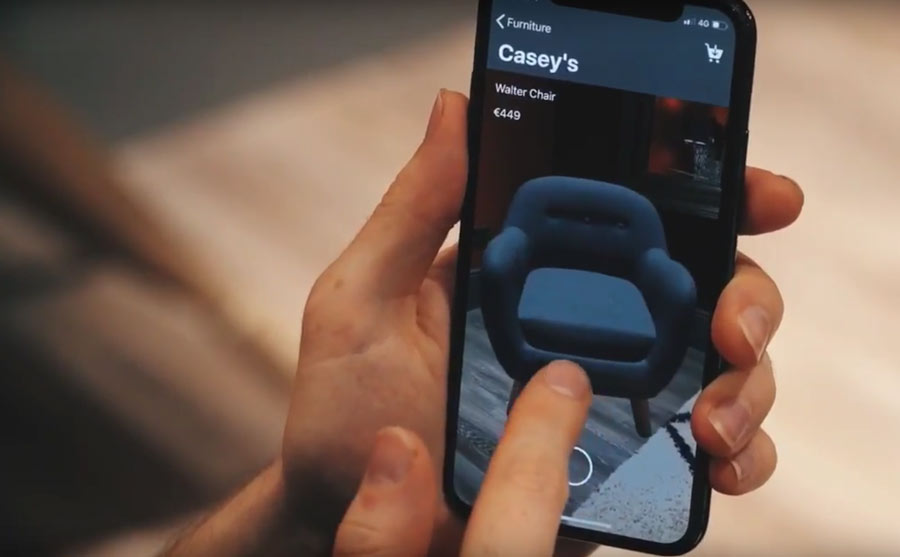 Augmented Reality for Retail
Our ExpertTalks series is a collection of interviews with experts in the field of immersive technologies. Today, we caught up with Allen Wixted, founder of No Place Like. His company uses Augmented Reality for retail (AR), allowing potential customers to view products in their homes before purchasing. Allen has developed their innovative retail technology specifically for needs of the furniture retail industry and is currently undergoing trials with some of the biggest players in that space.
"I'm a UX designer by trade," Allen tells us. "I  came from a software development background and did a masters in University of Limerick in 2016 and really started getting into Augmented Reality after that. As regards Virtual Reality (VR) people say 'you can run VR on a phone too' and that's true, but you can't really do it without looking like a bit of an idiot! Augmented Reality is something you can use in public, it's something you can use on the go, it's something a lot more ubiquitous. In a nutshell, we take 2D photos of products and turn them into 3D models and place those 3D models into the customer's house. This gives the retailer increased conversion rates on their sales, boosts customer satisfaction, and lessens the chance the product will be returned".
How it Works
No Place Like is an omnichannel service which means people can discover it across the full spectrum of online touchpoints as well as in real life. "If you walk into a shop and you have never heard of us before, we can give you a prompt in the store to download or view the product in its Augmented Reality version. On the other hand, if you are browsing on a website, rather than just view traditional photos online, you can click a button and the item of furniture will appear in front of you at home. The technology we are working with is Apple's ARkit 2, which was released around September 2017. In terms of our process, we take the 2D photos from the existing website and the information regarding its dimensions. We then use that information to create an Augmented Reality version that's to scale".
An innovation in Online Retail
"For us, the furniture market is key as the retail tech for them has been largely static for the last few years. A lot of the leading players, their websites look almost identical, apart from the logo. It just videos, photos and text. They have reached the peak of that current technology. Their focus until now, has been purely on optimization in terms of landing pages and user interface. We offer something new and innovative. Essentially, It's a fresh take on how to buy stuff online. Apart from that, it answers questions for the shopper. A sofa is a large expensive item to buy. Our service gives a simple way to provide context for the item before a purchase has been made".
Customers
In terms of their customers, Allen is currently starting trials with some of Ireland's biggest homeware and furniture retailers. "we are just starting trials with Easy Living, Michael Murphy, and Caseys. Within 12 months we'd like to get DFS and Harvey Norman onboard too."
Although the service is currently consumer facing the company are prepared to develop it further. "The product is ready to go this second, however, we are still very open to hearing feedback from our clients, so we're not afraid to change and pivot in the future. For the time being, we are developing our services for VR Quick Look on iOS, -that's really our mainstay right now. We're on the Google 'Adopt a Startup' programme, so through that, we are looking to get onto Android as soon as possible"
[evp_embed_video url="http://mersus.ie/test/wp-content/uploads/2018/11/George_Lamberis_instagram.com_BprHnLAleWB.mp4″ autoplay="true" loop="true" ratio="0.845″]
Competitors in the Augmented Reality Retail Space
While there is no shortage of competitors using Augmented Reality for retail, Allan believes that No Place Like offer something unique to their clients. "Most of our competitors are providing this service within an app. What makes us different is that we do it within the website so there's no need for an app download. The average person downloads zero Apps per month! As much as the retailers want them to, the reality is that customers don't want to download separate apps for each store. We allow the end consumer to access this service simply by clicking a button the website via their mobile device".
Additional Marketing Benefits
The service has the added value to retailers of being able to generate potential leads. "For your sales team, it's a great way for them to gather email addresses or phone numbers or whatever information their marketing team wants. If they see someone interested in an item, but unsure of it, they can say: give me your email and we'll send you some marketing info with this in it".
Biggest challenge
"Personally, all of the tech stuff comes very easy to me. Turning myself into a salesperson has been the biggest difficulty -and not in a Wolf of Wall Street kind of way! It's just been a learning process in terms of meeting clients and communicating the value of the product. We've had some wonderful support, we're on the Enterprise Ireland New Frontiers programme, the Google 'Adopt A Startup' programme and Startup Boost up in Dublin. They've all been really fantastic. We plan to go for competitive start funding next year, which we are hoping will help us to scale internationally".  For more information on No Place Like and Augmented Reality for retail you can check out their website https://www.noplacelike.co/
Mersus Technologies are Ireland's leading content creators for Virtual Reality, Video and Animation.