First Polymer Training Skillnet is a training network, specifically catering to the Irish Polymer Industry. Supported by the Skillnet Ireland initiative, First Polymer is committed to providing world-class talent development solutions that perfectly align with the industry's unique needs. This involves a suite of both online and in-person training programmes, along with the capacity to create bespoke, in-house programmes to cater to individual companies' specific needs.
Mersus Technologies' VR training apps, and our Avatar Academy platform, were an ideal fit for First Polymer's training programme. Our shared mission—to leverage technology to revolutionise training—served as the perfect foundation for a successful partnership. The outcome of our collaboration was a comprehensive VR training application, designed to effectively train users in the injection moulding process, thereby elevating FPT's training capabilities to new heights.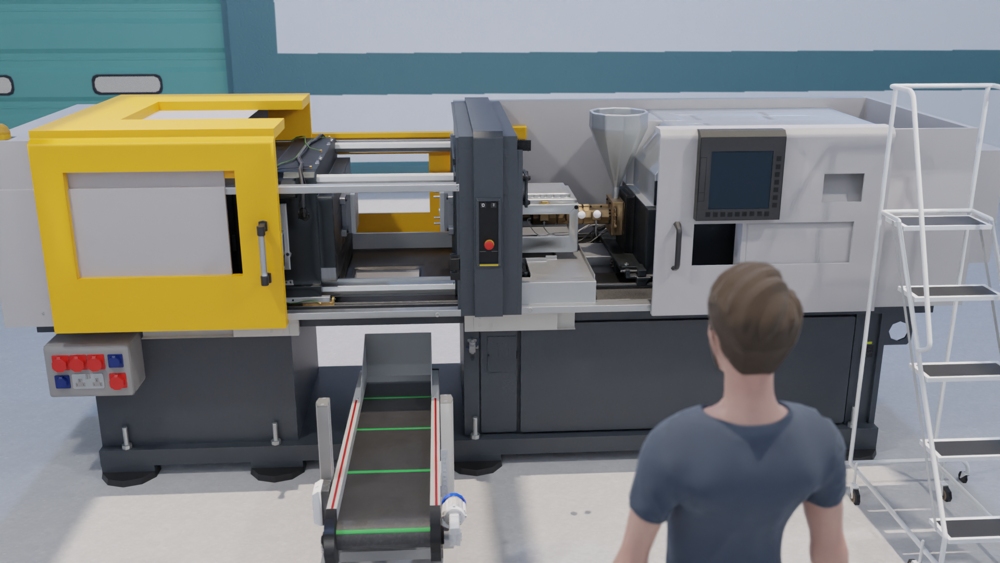 VR Training APP 
Mersus Technologies developed a precise, to-scale replica of a First Polymer injection moulding machine in VR. This virtual model provided a realistic and immersive training environment, allowing learners to familiarise themselves with the operation of the machinery in a risk-free setting. By allowing students to 'work' on the virtual machine before transitioning to the physical machine, we have ensured a smoother, safer, and more confident learning experience.
Furthermore, the VR application has greatly expanded First Polymer's training reach. With this app, geographical barriers are effectively eliminated, making it possible to offer training to individuals wherever they are, at any time that suits them. This is not only beneficial for remote learners, but it also allows for a greater number of trainees to undertake the training simultaneously. While one group of students are actively engaged with the physical machine, others can be concurrently training on the VR replica. This dual accessibility optimises the use of resources and significantly increases the capacity for training at First Polymer.
"It gives us an extra feature to our training delivery, and also helps embed the learning"

Catherine Collins, Network Manager, First Polymer Training Skillnet
Our partnership with First Polymer demonstrates the immense potential of VR technology in enhancing training outcomes. Through the creation of a VR training application, we were able to provide a realistic, safe, and immersive learning environment that is accessible and flexible. This collaboration not only helped First Polymer increase their training capacity and efficiency, but it also validated our shared belief in the transformative power of technology in education. We look forward to seeing how First Polymer continues to leverage this technology to further their mission of delivering world-class talent development solutions.
Winning the 'Best Training & Development Program' category in the 2022 National Manufacturing and Supply Chain Awards further demonstrates the value and impact of the solution developed by Mersus Technologies.
Discover the power of immersive technology. Contact Mersus today.