Our 'Expert Talks' series is a collection of interviews with leading industry professionals within the realm of Virtual Reality, Video and Animation.
Today we caught up with Ireland's animation power couple Niamh Herrity and Aoife Doyle. The dynamic duo set up Pink Kong Studios in 2014 and within a short space of time have become known as one of Ireland's leading animation production houses. They recently gained widespread media attention with the release of Ireland's first Virtual Reality Film, 'Aurora'.
Niamh's background is in business management while Aoife provides the creative skills having spent a number of years working in the animation industry for the likes of Cartoon Saloon and Kavaleer. Together they combined their skill sets and went out on their own in 2014 to establish Pink Kong Studios.
"When we started out we were doing commercial work and we still are to be honest, that's still the bread and butter, but it's also the work that gives us the opportunity to develop our own stuff", Niamh told us.
Niamh describes how in the beginning the company took their time working on corporate videos and building up their portfolio of work.
"Once we had enough content under our belt we were able to develop our showreel, which led to a lot of advertising work. However, in the background, while working on those client based contracts, we were always working on our own concepts and pitching to the likes of RTÉ."
In 2016, Pink Kong were successful in one of their pitches and received 'Frameworks' funding. The scheme is dedicated to the production of animated films and supports new ground breaking and innovative work from Irish animators. The funding allowed them to create 'Departure'.
Departure tells the story of 'Alma', an Irish grandmother who makes an unexpected departure from her lonely life. The short animation had it's premiere at the Galway Film Fleadh last year.
"It's currently being exhibited around the world International Film Festivals", explains Niamh. "Aoife directed it and although we've done a mix of everything in the industry it's always been our intent to create our own stories."
Pink Kong's reputation for producing quality animated content has grown rapidly.
"At first, it was just myself and Aoife and we had a number of freelancers come in and out, but within the last two years we have done a number of short films so we have scaled up to around 30 people at a time, depending on what's required for any particular project. 
In September 2017, Screen Training Ireland, in collaboration with the Audi Dublin International Film Festival (ADIFF) hosted an Immersive Content Creation and Hackathon event at RHA Gallery.
"They put together this event where people came over from America and Europe and gave us a run down of the ways to tell stories in Virtual Reality" Aoife explains. "It was a great insight into creating presence and agency for the user within a VR film context."
At the event, Pink Kong Studios took part in a competition where they had to pitch a concept against 12 other potential candidates. Their idea emerged triumphant and they were awarded a €30,000 bursary to set about creating what would become known as 'Ireland's first Virtual Reality Film', 'Aurora'.
Aoife explained that the pair have always been interested in Virtual and Augmented Reality.
"In doing the film Aurora, it was our first opportunity to really sink our teeth into what the technology could do. Others had created animation based experiences before, but this was the first VR film ever created in Ireland."
The film is shown at 'room scale' with HTC Vive Headsets where the audience member moves around certain parts and interacts with the characters. The piece had its premiere at ADIFF 2018.
"It got great press and has really gone down a storm!" Aoife remarked. "We've had a great response from the established VR community, it was great to get that feedback and see that they enjoyed the artistry in it."
Niamh described how the were acutely aware that for many attending the premiere of 'Aurora' it would be their first time experiencing Virtual Reality.
"We wanted that experience to be a positive one, we didn't want to freak people out… basically no roller coasters! It's a nice gentle introduction to Virtual Reality" she continued. "We're hoping to tour it around some of the bigger international festivals and Irish audiences will get another chance to check it out at the AR VR Innovate Conference at the RDS in May."
And what about their own first experience of Virtual Reality?
"It was at a conference a couple of years ago" Niamh explained, "it was a 'Neuro' experience where you were inside a working human brain." For Aoife, it was the Goolge Tilt Brush that opened up the possibilities of what could be done. "That's the moment where I was like okay, this is cool! For artists it's a really solid tool to be able to use and just kind of explore different possibilities", she explained.
Niamh sits on the Board of Animation Ireland, the umbrella body that represents the country's leading Irish Animation Studios in promoting the sector internationally.
"Irish people are storytellers", she tells us, "That's what we do and that's what we've always done. We are really good at the craft and it has just been rocketing it the last few years. You can see the transformation in the industry."
One of the challenges facing Pink Kong Studios in terms of their next Virtual Reality film is funding. While there are tax incentives and many more options for producing film and television, Virtual Reality is not currently recognised under the remit of the Irish Film Board.
"We'd like to be able to pitch more ideas and more interactive experiences. But we can't do that in Ireland at the moment, so we have to pitch to international investories" Aoife explained. "It would be great to see more support emerge at home for immersive storytelling. We look forward to that day. But for now we need to go to Europe and the US in order to secure funding". However, Aoife remains optimistic about the future, "there's no doubt that funding in Ireland will start to emerge" she declared, "it's the way the global industry is moving so it's inevitable but in the meantime, find a Hackathon event because Ireland does not fund Virtual Reality Films!".
And what other projects are currently on the horizon for Pink Kong Studios?
"At the moment, we're working on advertising projects for some creative agencies, we're very interested in exploring the opportunities for advertising with VR & AR", Niamh told us. "I think it can really help brands get their message across. People get distracted so easily these days if you've a headset on you are in the experience!".
The company are also working on their forthcoming children's television series 'Urban Tails' which has been in development for the last two years.
Niamh describes how the series is "animals teaching chidren about their habitat but in a really engaging and fun way. We are at the finance stage so we will hopefully be able to tell you more in the next few months. The pilot was funded by RTÉ as part of their animated shorts series".
To keep up to date with the latest from Niamh, Aoife and the team at Pink Kong Studios you can follow the guys on Twitter HERE.
Image photo credit Brian McEvoy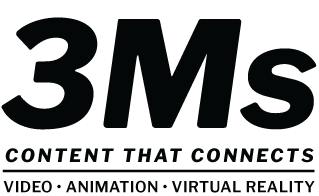 Mersus Technologies are Ireland's leading content creators for Virtual Reality, Video and Animation.